Category: Texture Mats
Patent #01210116.8 P. R. China, Pending International Patent.
The Texture Mat is a patented clay tool for making textures on the surface of wet clay. The artist or student can use the textured clay to build many different forms.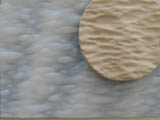 Item #: PA 321
Size: 15.2" X 10"
Price: $28.00
Item #: PA 322
Size: 10" X 7.6"
Price: $14.00